---
C-GEX Automated Upholstery System
Request a Quote
Download Media
PDF print material for this product available for DOWNLOAD
There are no brochures or product sheets to download for this product at this time.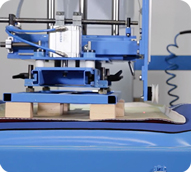 The C-GEX Automated Upholstery System reinvents the art of upholstery. It creates an entirely new process by dramatically simplifying and enhancing the productivity of upholstery operators. C-GEX uses a press and fast, reliable thermal gluing system based on heat activation. Its method combines this with a drawstring upholstery process - all while maintaining the highest of quality standards.
Gluing
C-GEX creates a heat-activated, VOC-free gluing method using a dry adhesive. The web adhesive is positioned between the fabric and foam, and does not require spraying or drying.
Pressing
The C-GEX upholstery press has a universal worktop that is flat at the beginning of the press cycle. The operator places the upholstery cover on this worktop, which takes up the shape of the cushion. Air-activated glass beads take up the cushion contours and a stream of warm air activates the web adhesive.
Drawcord
To finish the upholstery process, the ends of the drawstrings are accurately tensioned using air cylinders.
Additional Upholstery Systems