---
Knitted Elastomeric Parts for Seating Applications
Request a Quote
Download Media
PDF print material for this product available for DOWNLOAD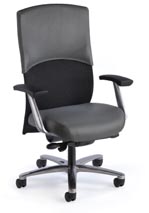 Knitmasters creates three-dimensional knit fabrics that fit specific shapes and conform to multiple design requirements, which eliminates cut-and-sew, foam, upholstery, and waste.
We'll work with you by developing your part according to your fabric pattern, color, and specifications. We'll deliver a perfect fit with a Just- in-Time methodology. Knitmasters offers:
Single layer with sides and top-tube insertion
Complete sock-on double layer
Extension pattern capabilities
Space fabric add-ons
Selected areas with elastomeric yarns
Much more
Contact us today
to help you develop the best solution for your application.