---
Cinch-Loc™ Upholstery System
Request a Quote
Download Media
PDF print material for this product available for DOWNLOAD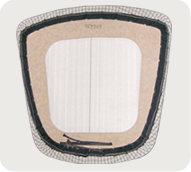 Upholstery Fabric Attached by Drawstring
Using a system utilizing a drawstring to attach upholstery fabric, Cinch-Loc™ saves labor and reduces fatigue. It is currently being used in office seating, the bedding industry, and in one automotive application. Cinch-Loc improves fabric yield by 30% and provides shape and pattern consistency from seat to seat.
Upholstery
Cinch-Loc is the most effective upholstery method for seating in the upholstery industry. The product is sewn to the perimeter of a seam pattern, and the cord is simply pulled and attached while the seat is in a compressed state.
Bedding and Box Springs
Cinch-Loc is a simple and easy way to apply covers to box springs. Cinch-Loc improves the quality of cover applications, saves on fabric use, and reduces labor costs. It is a process that is superior to stapling.
Pillow Tops
Cinch-Loc provides solutions for creating simple and cost-saving pillow-top beds with ruffled corners. With a final step secured by hand, pillow tops take on a "handmade" look and feel.
Additional Upholstery Systems